They're underpaid, neglected, and often plain forgetten. Until of course their work is needed. Who is this group of people you may ask? Migrant farm workers of course, thousands of which venture north from Mexico, Latin America and the southern United States each year to pick Michigan crops. Not without difficulites though, a system arose the last 50 years or so in which thousands across our state do not receive the minimum wage. This is only the beginning though, as many families are one bad break away from poverty and hunger. How do these individuals deal with problems of citizenship, inadequate housing, and healthcare access? What brought them to Michigan? How many come each year? ... Just a couple hundred right? How are they paid? What hazards might come with their work? But wait, we have Michigan farmers to worry about too right? Though numbers have been great in the past and many migrant workers return to the same farm each year, why are so many farmers struggling to find enough help? What role does the government play? We answer these questions and more about this invisible system in today's podcast, give it a listen.

Final Podcast
​
​

This is the first enstallment of the Eating Industrial podcast with your host, Grant Hoffman. It is a culmination of many different aspects of the class like migrant farming itself, but also podcasting and integrating new technologies into the classroom. Special thanks to this week's guests, Ann and Carlos.
Powered by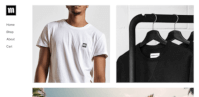 Create your own unique website with customizable templates.